At SVC Labs, we are proud to have a team of motivated and experienced individuals who are all specialists in their respective fields – our team is the most important and valuable part of our company. Each and every member of our workforce is passionate and committed to being the best in the CBD, e-liquid, and supplement business. This dedication is apparent throughout our services and our product offerings.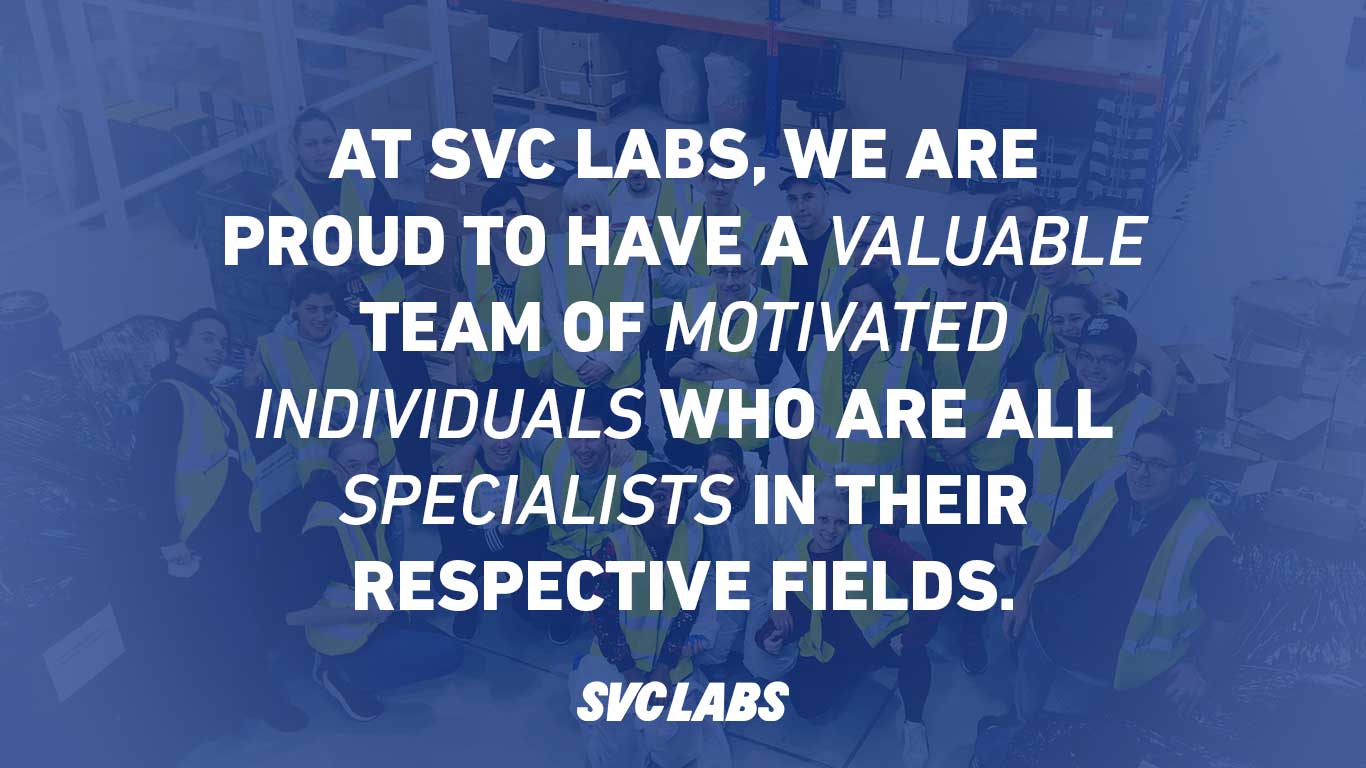 In this article, we are going to tell you all about the real people behind SVC Labs. When choosing your white-label manufacturer, it's important to understand the company, it's capabilities, and the expertise of its people. This will also help you to understand the processes that go into our white-label and wholesale manufacturing.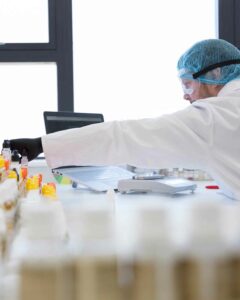 Our research and development team are responsible for creating custom formulations for all of our products. They source only the best ingredients from all over the world in order to produce e-liquids, supplements, and CBD products that stand out and meet all of your requirements. 
Their years of chemical engineering experience allows them to seamlessly create any e-liquid or supplement product flavour – restriction is entirely off the menu! In addition, their unrivalled level of expertise in cannabinoid formulation means we can confidently produce any CBD infused product that you may desire. 
Sales Team
Our wholesale and white-label sales team are responsible for communicating with our customers to understand their wants and needs, and ensuring that we can deliver on this. With their collective experience of over 20 years, they are experts at providing our clients with advice, guidance, and exceptional customer service every step of the way. 
Our friendly, professional, and highly knowledgeable team will be able to answer any questions you may have, and provide solutions to any dilemmas or concerns you may face. 
Retail Team
Our retail team are responsible for running the store, managing stock, and managing customer service on a retail level – they essentially keep our retail customers happy! As real vaping experts, they are able to deal with all enquiries and advice surrounding e-liquids and e-cigarettes. 
In addition to this, they ensure that we always have sufficient stock, help us to make decisions on what we need to produce or purchase, and help the marketing team know which products to focus on promoting. 
Our design team is responsible for production-level and marketing-level design. This means they can create artwork from scratch for white-label clients or ensure that existing artwork is proofed and print-ready. They are also responsible for all of the creative surrounding our own brands, our websites, our social media, and our marketing campaigns.
The marketing team as a whole is responsible for keeping SVC Labs on the map! They market our individual brands, work on consistently improving our online presence, and help to build a loyal and satisfied customer base. 
The production team are a vital cog in the SVC Labs business. Production spans from sourcing materials all the way through to having a final finished product. We source packaging materials from trusted suppliers within our network, and print labels both in-house and externally to ensure we can always meet our clients' specific requirements. 
Our production facility has a semi-automated co-packing multi-line with a daily capacity of 28,000 units, as well as 2 fully automated bottling production lines with a capacity of 110,000 finished products per day. Our production team are responsible for manning these lines, ensuring that the correct products are being manufactured to the right quantities, and ensuring that the whole process goes smoothly. 
Our whole production team is highly knowledgable and considerate of health and safety guidelines, good manufacturing practices, and quality control processes. This is why SVC labs has been accredited with GMP, ISO 9001, and ISO 22000.
Our on-site fulfilment centre houses advanced technology which allows us to power faster picking times, efficient delivery times, and lower costs for our clients. Our investment in this technology gives our staff the opportunity to work in a safer and more efficient environment. 
The SVC Labs fulfilment team are experts in the systems and processes that go into product delivery. They ensure that our clients are always left satisfied with the promptness of delivery and that products always arrive in the condition that they left our warehouse in. 
SVC Labs was born in 2014 after our founders created the Simple Vape Co concept from a London kitchen! We are the fellow small business owners who understand the industry in great depth and understand our customer's needs.
Our leadership team is made up of industry specialists with years of experience. They have a clear shared mission to be the global leader in CBD, e-liquids, and supplement manufacturing. They believe the way to reach this goal is through strong principles of quality, sustainability & honesty, sourcing ethical and organic ingredients, valuing our entire workforce as individuals, and having a true interest for our clients' satisfaction and success. 
Every member of the SVC team has been carefully recruited based on passion, commitment, motivation, and – of course – specialist experience. Our reliable workforce has over 70 years of combined experience in the specialist manufacturing industry and chemistry.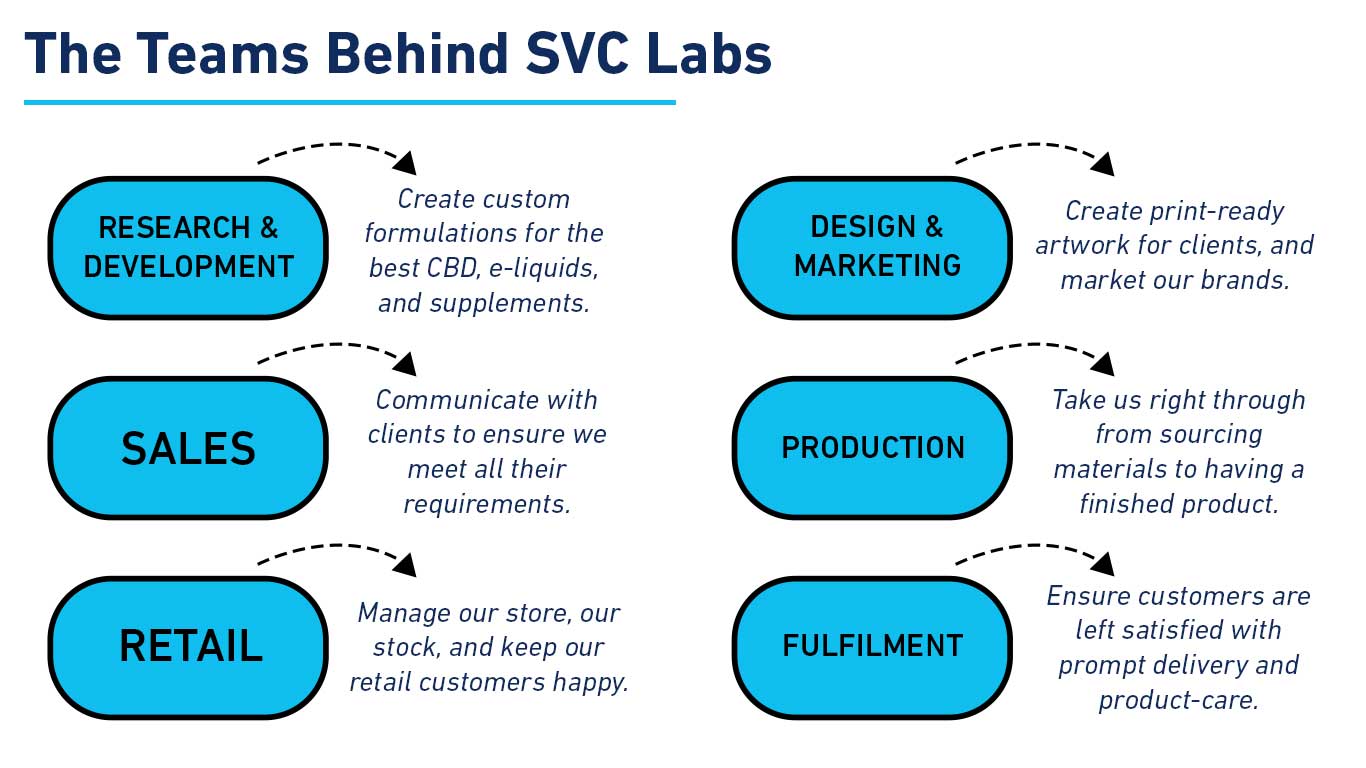 If you would like our skilled team to create bespoke white-label products for you, then get in touch today! We would love to hear from you and are ready to answer any questions you may have.