In recent months, CBD products have become more and more easily accessible in Hong Kong. Stores, cafes, and online shops are opening up to offer this incredible product to a new customer base throughout the region. 
This has turned into a snowball effect that is pushing the CBD movement forward, opening up lots of new opportunities for CBD companies, entrepreneurs, and curious consumers alike. 
We are SVC Labs: a UK based grower of organic industrial hemp and a manufacturer of superior CBD infused products. We use our wealth of knowledge, experience, and tools to provide a seamless white-label service that allows clients to create their own CBD brand without the stress and hassle associated with manufacturing. If you want to stand out from the competition with high-quality CBD products and beautiful branding, then SVC Labs could help.
In this article, we will be discussing the new surge of the CBD movement in Hong Kong. Now is an excellent time to bring your CBD brand to the market over in Hong Kong whilst the competition is minimal and the buzz is growing!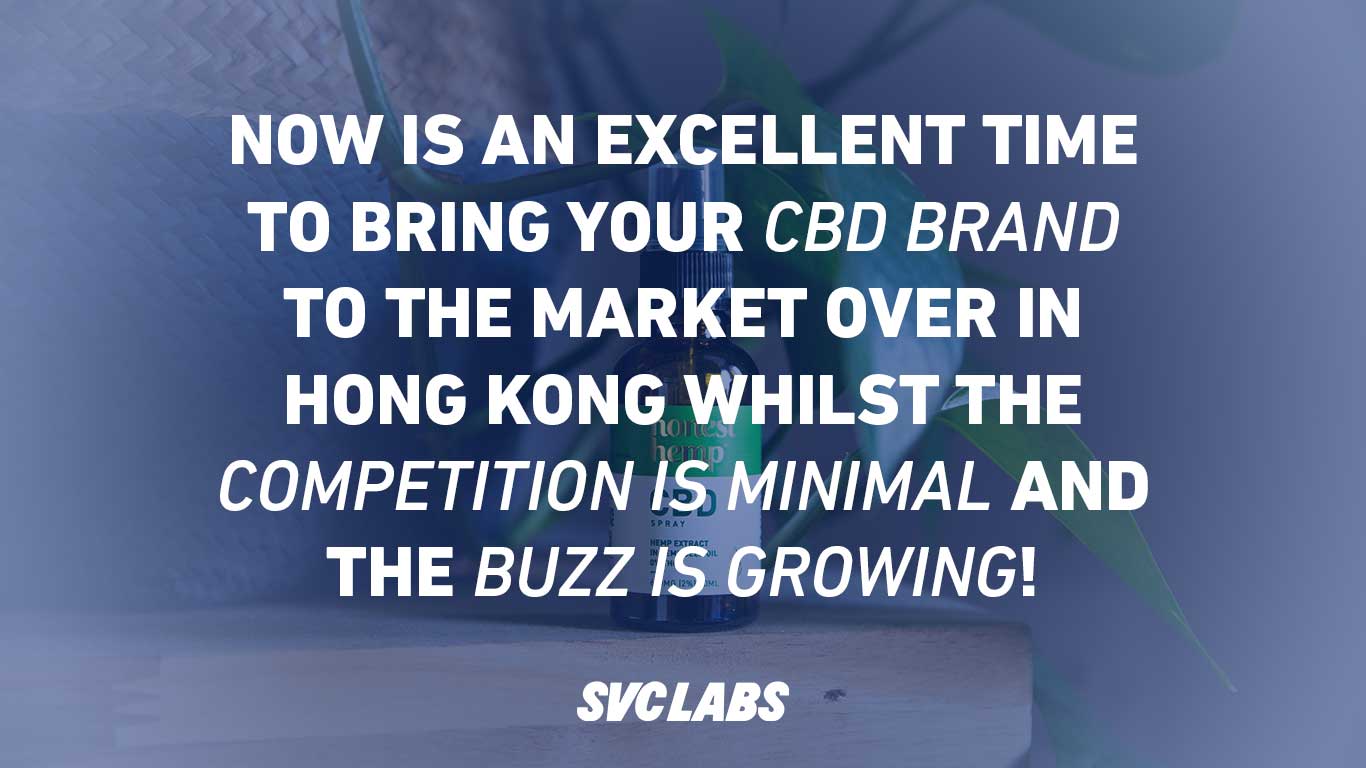 The Hong Kong Laws on CBD
In Hong Kong, CBD is not classified as a dangerous drug and is therefore not controlled under the Dangerous Drugs Ordinance. Cannabis, THC, and CBN, on the other hand, are considered dangerous and are therefore illegal. Fortunately, it is completely possible to create CBD products that contain a multitude of beneficial cannabinoids without the inclusion of THC or CBN. It's important to ensure that when buying, selling, or importing CBD products into Hong Kong that they do not contain any of these controlled cannabinoids. 
There are three different types of CBD extract: full-spectrum, broad-spectrum, and CBD isolate. Full-spectrum CBD contains small amounts of THC meaning you should avoid this if you are looking to sell in Hong Kong. In contrast, broad-spectrum extract has this cannabinoid removed – at SVC Labs, we also remove CBN. CBD isolate is simply a concentration of pure CBD with no other cannabinoids. The latter two of these extracts are completely legal and considered safe for use in Hong Kong. 
What CBD Products Are Currently Available in Hong Kong?
There is a diverse assortment of CBD products available in Hong Kong. This includes CBD oils, topicals, foods, drinks, capsules, and more. There has always been a connection to plant and herbal remedies for people in Hong Kong and China, which could be part of the reason why CBD is becoming such a profitable industry there. Cafes and shops are opening up to offer people a space to explore the powers of CBD – this is a niche that is bound to capture attention and sell! Even beauty brands are beginning to shift a focus onto CBD. It's anti-ageing, anti-oxidant, and anti-inflammatory properties make it an extremely appealing ingredient for the skincare industry. The diversity of CBD means you can pretty much make any brand out of it – whether it be a quirky cafe, a health-focused supplement brand, or a luxury skincare range. 
At SVC Labs, we are able to manufacture a huge variety of CBD infused products. Pretty much anything you can think of, we can do! Our team of experts and our connections within the CBD network throughout the UK and Europe mean we are ready to take on any task you might set for us. Contact us today to find out more. 
What Exactly Does CBD Do?
CBD is a cannabinoid derived from the Cannabis plant. This plant is commonly associated with a negative stigma – Cannabis can be smoked and cause people to feel 'high'. However, it's important to note that this 'high' is caused by an entirely different cannabinoid: THC. This is illegal in Hong Kong, but CBD is completely legal, safe, and non-psychoactive.
CBD is thought to interact with the human endocannabinoid system. This system is responsible for regulating stress, anxiety, pain, mood, sleep, appetite, the immune system, and more. If we keep this system balanced and healthy with the use of cannabinoids like CBD, then its thought these functions could essentially work better. So, CBD may be able to work as a pain reliever, a mood regulator, a sleep regulator, and more. 
In addition, research has suggested that CBD could have anti-tumoral, antioxidant, anti-spasmodic, anti-psychotic, and neuroprotective properties. This has lead to the use of CBD in medicine to treat conditions like epilepsy and MS. 
As we briefly mentioned above, CBD's anti-oxidant and anti-inflammatory properties mean it could be an effective ingredient for skincare. It may help to improve skin hydration, manage aging, manage dry skin, and even help treat skin conditions such as acne, eczema, or psoriasis. 
Since CBD is completely non-psychoactive, safe to use, and has few known side effects, it's an excellent choice for pretty much everyone! The World Health Organisation (WHO) states that there is no risk for dependency or abuse and CBD is well-tolerated by all individuals.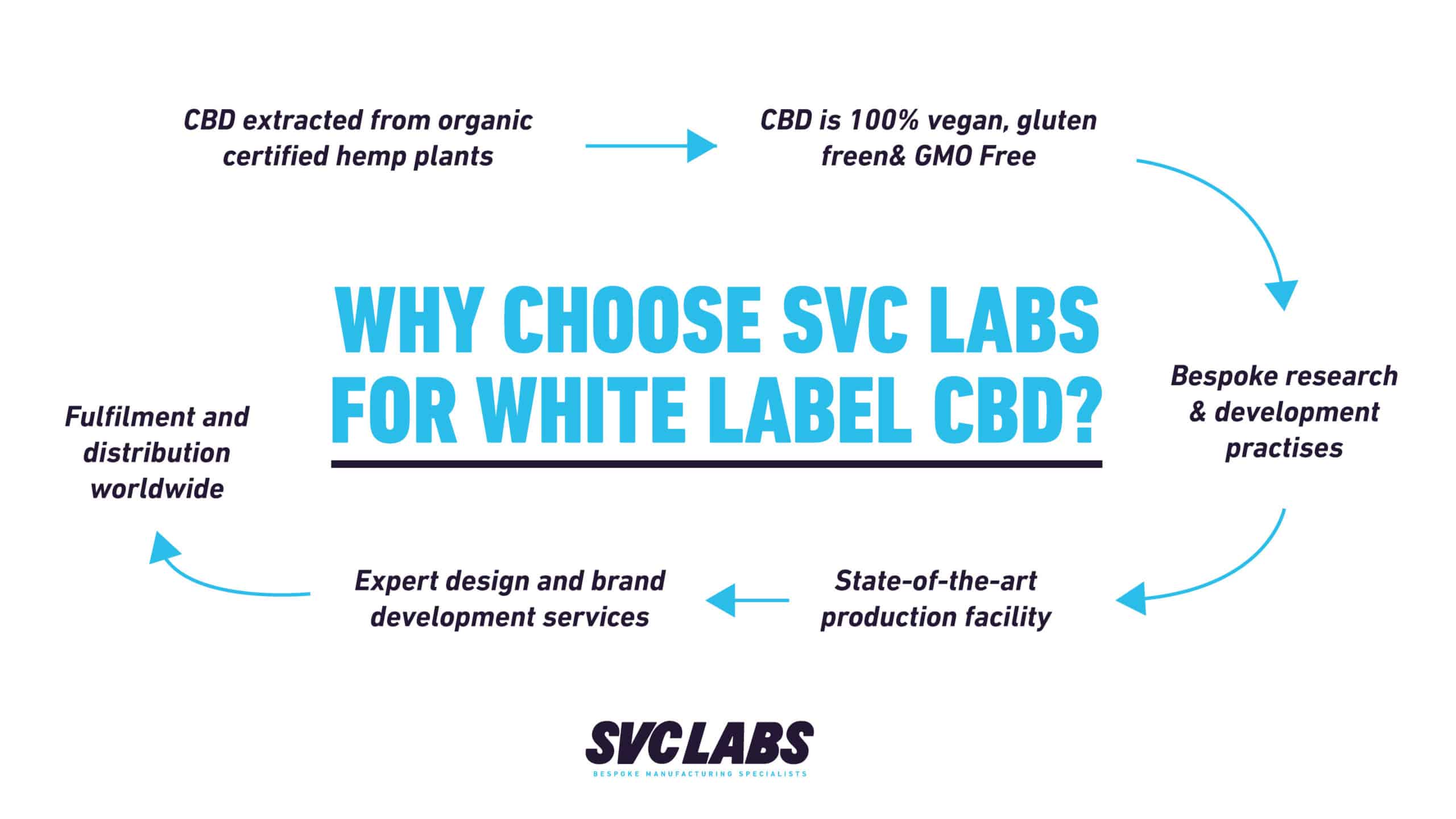 How to Start Your CBD Brand 
The best way to start a CBD brand is through white-labelling. 'White-labelling' refers to the process of rebranding a product created by a manufacturer in order to sell it as your own. This is our speciality at SVC Labs! 
White-labelling allows you to create your own unique brand identity with labels, packaging, and marketing that reflects your brand and tells a personal story. It saves you time, money, and resources as you are taking advantage of the expertise already existing with another manufacturer. Additionally, it alleviates the pressure from you – if something goes wrong in the manufacturing process, it is the manufacturer's responsibility to put it right, not yours. 
At SVC  Labs, we offer 3 different white-label packages. (Click here to check these out in more detail). The most comprehensive of these 3 services covers research & development, branding & design, manufacturing, labelling & packaging, and fulfilment & drop-shipping. So essentially, we can take you right through the process from start to finish. This means you have a whole team of people working alongside you who have been through the process a hundred times before. 
We are all super excited about the booming CBD market in Hong Kong right now, and truly believe this is an excellent opportunity for so many people and businesses. If you would like to get involved, then contact us today for more information.