At SVC Labs, we are experts at producing some of the most delicious e-liquid flavours and brands in the UK. We have built up a wealth of knowledge, experience, and equipment over the last few years, as well as a team of individuals who are experts in their respective fields. 
In this article, we will explain the manufacturing process for e-liquids right from start to finish.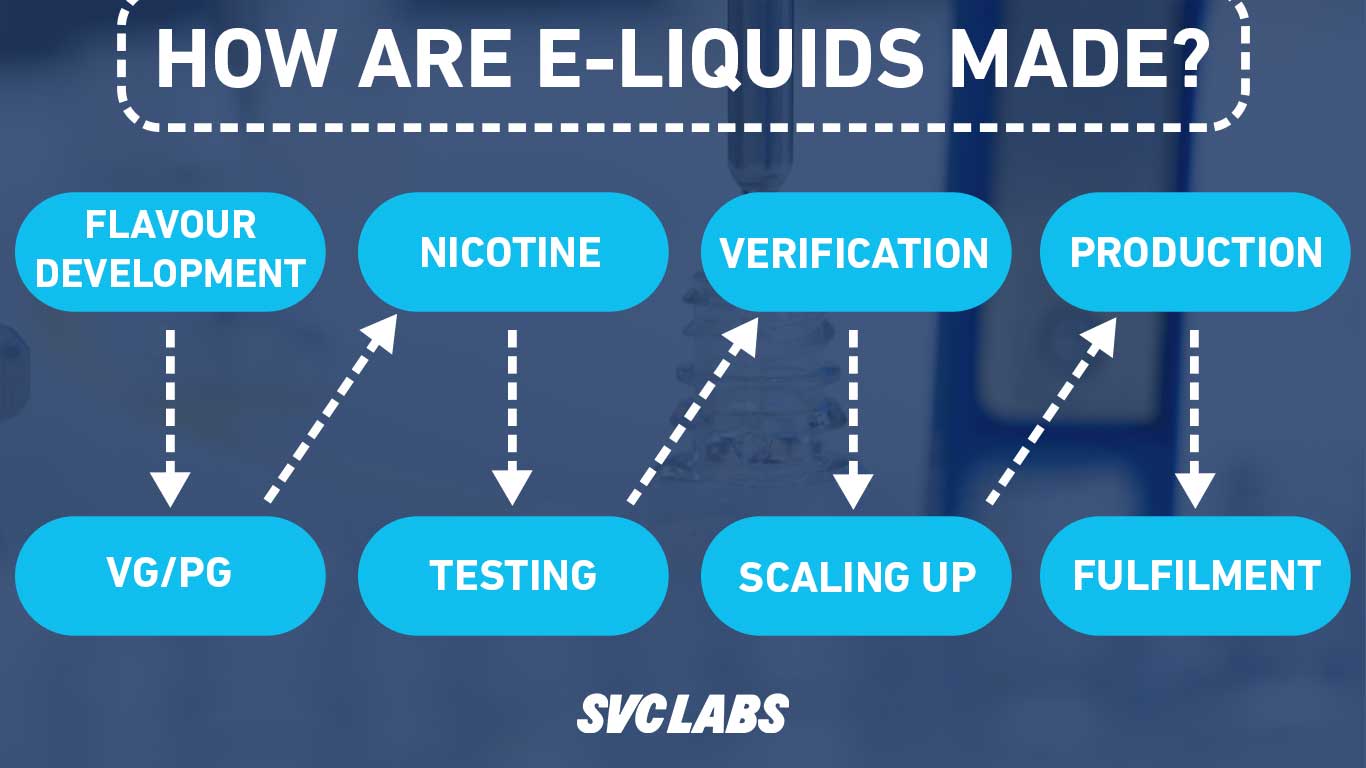 Step 1 – Flavour Development
First of all, our research and development team will work to create flavour combinations. Once we have a concept in mind, they will mix flavour concentrates sourced from reputable suppliers throughout Europe and the USA. 
These mixes will be taste-tested by multiple people, reviewed, and refined until they reach the perfect flavour. They will also be analysed to ensure health and safety guidelines are followed throughout the process. 
Step 2 – VG/PG
Next, our research and development team will create the desired VG/PG ratio for the e-liquid and add this to the flavour formulation made previously. PG stands for propylene glycol and VG stands for vegetable glycerin – these are both odourless liquids which produce vapour when the heated and can, therefore, be inhaled. 
All e-liquids should contain both of these ingredients, but the ratio will vary – it will usually be 50/50, 70/30, or 80/20. PG carries flavour more effectively and provides more of a strong throat hit, whereas VG provides a much smoother throat hit, thicker vapour clouds, and is less effective at carrying flavour. 
So essentially, a ratio where there is more VG than PG would be more suited to powerful devices as this higher power will allow the flavour from the PG to come through more effectively. It is also more suited to sub-ohm vaping (a style of vaping that produces large clouds of vapour). E-liquids with a 50/50 ratio are more suited to less powerful devices – not a lot of power is needed to bring the flavour through, and it won't produce large vapour clouds. 
Step 3 – Nicotine
Next, our research and development team will add nicotine to the e-liquid (if the e-liquid we are producing will, in fact, contain any nicotine). 
First, they decide whether this will be freebase nicotine or nicotine salts. Freebase nicotine is the most commonly used type, whereas nicotine salts are rarer and produce a much smoother, softer throat hit. 
Next, they decide how strong the e-liquid will be in terms of the milligrams of nicotine. This nicotine will be combined with the flavour formulation and VG/PG mix that we covered above. 
Step 4 – Testing
If the e-liquid does contain nicotine, then it must now go away for external testing. The formulation will undergo emissions testing to ensure that there are no unwanted/ banned substances contained within it, and ensure that it's completely TPD (tobacco products directive) compliant. 
Step 5 – Verification
After testing has been completed and we are 100% satisfied with the formulation, we must post it onto the European Portal. Manufacturers of e-liquids must submit information about their products to MHRA through a European Common Entry Gate (EU-CEG) notification portal. This is a requirement set by the TPD to ensure that consumers can access verification to see that products that are safe. 
Step 6 – Scaling up the formula
Next, the formula we've created must be scaled up accurately ready for bulk manufacturing. The development team will work out the mathematics in order to scale up the formula and it will be stored in bulk containers ready for bottling. 
Step 7 – Production
Now our e-liquid formula will be bottled, labelled, and packaged ready for shipping. We will have labels and boxes designed by our graphic design team and print them with an external label printer. Alternatively, pre-made labels and boxes will be supplied by the white-label client. The e-liquid is then distributed into bottles on our fully automated bottling production lines with a capacity of 110,000 bottled, labelled, and finished products per day. The labels are automatically applied to the bottles and then the bottles will be boxed. 
Step 8 – Fulfilment
Lastly, the finished products will be shipped or stored in our warehouse (depending on whether we are creating a product for a white-label customer or for our own retail purposes). Our fulfilment centre and fulfilment team ensure that uses advanced technology and automation in order to meet customer demands and deadlines. We power fast picking times, efficient delivery times, and lower costs. 
We also specialise in distributing to the vape network within the UK – this network gives our white-label clients every opportunity for success.