Both consumers and producers of e-liquid containing products need to be clued up on TPD compliance. We all want to ensure that ourselves and our customers are staying safe and informed when using nicotine e-liquid or e-cigarette products.
At SVC Labs, we are experts in all things e-liquid! As one of the largest TPD compliant e-liquid manufacturers and distribution companies in Europe, we are here to provide you with the ultimate guide to TPD compliance. 
In this article, we will discuss exactly what TPD compliance entails, what the purpose is, and how this could affect you and your company. 
What is TPD?
TPD stands for Tobacco Products Directive. It is a set of rules and guidelines provided by the Medicines and Healthcare Products Regulatory Agency (MHRA). It was introduced to the UK in 2014 in order to provide rules for manufacturers and producers of nicotine e-liquids and e-cigarettes. 
These rules outline minimum standards for the safety and quality of all products that must be met. They also aim to ensure that the necessary information is provided to consumers so that they can make informed choices. Lastly, they aim to protect children and prevent them from starting to use these kinds of products. 
In May 2017, the TPD rules were updated to the guidelines we now follow. We will go over these in more detail later on in the article. 
What is the Purpose of the TPD?
The purpose of TPD compliance is to keep consumers safe. It also helps reputable manufacturers and producers to flourish, as it prevents unreliable and non-compliant companies from selling their products. This helps to keep the e-liquid and e-cigarette industry going strong as consumers can rest assured that legally sold products are completely safe and regulated. 
In addition to this, the MHRA provides a place for consumers and businesses to report products that have caused side effects or safety concerns. If you think that a product on the market is unsafe, you should inform the MHRA via the yellow card reporting system. 
How Do I Ensure My Business is TPD Compliant?
One of the top priorities for anyone bringing new nicotine e-liquids or e-cigarettes to the market should be ensuring that you are TPD compliant. Let's outline the TPD guidelines that you must follow in the UK:
E-cigarette tanks can be no bigger than 2ml.

E-liquids containing nicotine can be no larger than 10ml.

E-liquids must not have a nicotine strength above 20mg/ml.

Packaging must always be child-resistant and tamper-evident.

You must not use any banned ingredients, such as colourings, caffeine, or taurine.

All labelling must meet certain requirements (we will cover these below).

You must notify the MHRA of all products before they can be sold. 
Let's cover this last point in more detail, as the notification of products to the MHRA is an important step in becoming TPD compliant. This notification must be submitted at least 6 months before you intend to sell the product. Once the MHRA have published this in the list of submitted products, you can begin selling. 
If you are a retailer selling products from a separate brand, you do not need to notify the MHRA. if you are a producer – this includes manufacturers or those who rebrand a manufacturers products as their own through white-labelling – then you do need to notify the MHRA. however, if a manufacturer has already submitted details of a product that you will rebrand as your own, you won't have to duplicate this notification as long as your brand name is listed in the submission.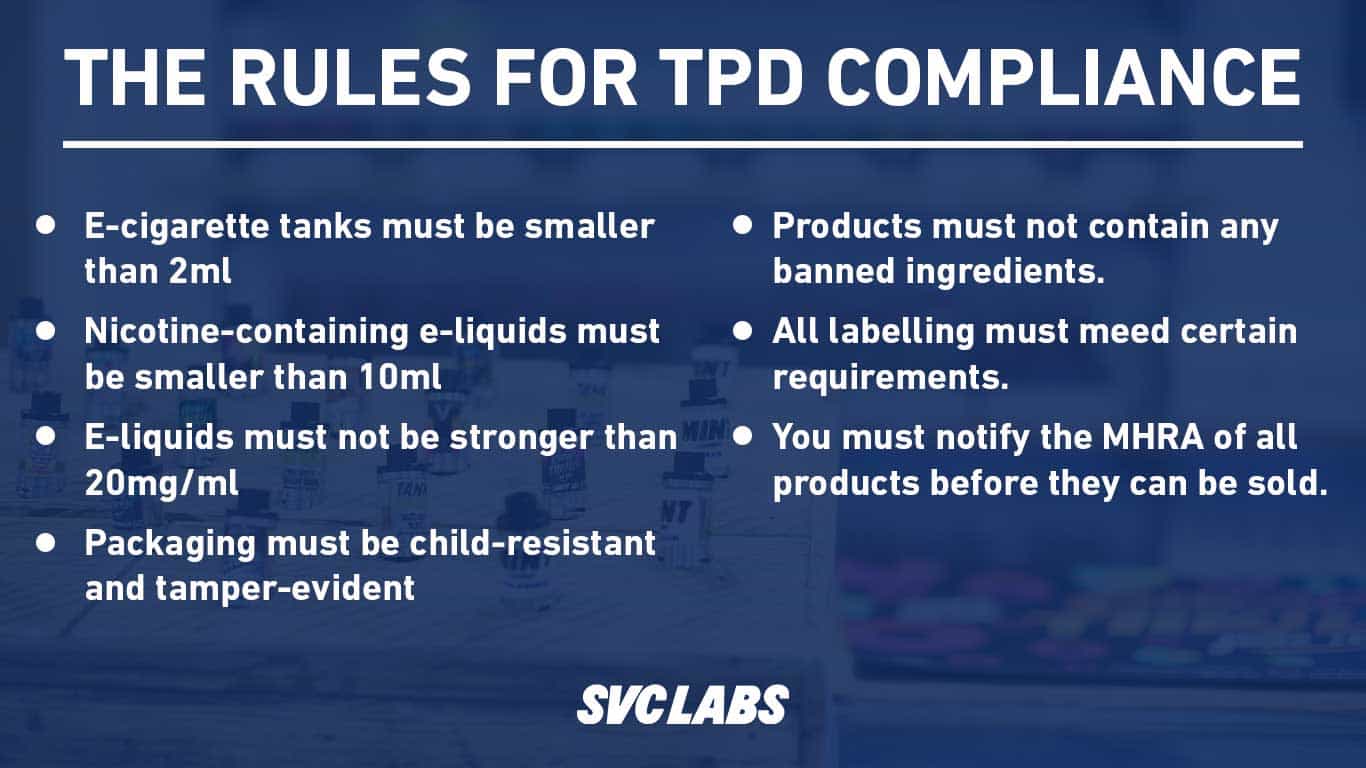 What About RoHS?
RoHS is the name given to the Restriction of Hazardous Substances in electrical and electronic equipment regulations. These are limitations that were introduced in 2012 in order to control the use of hazardous substances in electronic equipment, including e-cigarettes. 
This means that manufacturers, importers, and distributors of e-cigarettes must follow certain regulations. The aim is to ensure that consumers are provided with optimum product safety standards. 
What Are the Labeling Requirements for the TPD?
The Tobacco Products Directive (TPD) set rules for how e-liquid and e-cigarette product packaging needs to be labelled. 
All ingredients that are present above 0.1% must be listed on the label.

E-cigarettes must be packaged with leaflets that provide all relevant safety information. For example, how to store it safely. 
When it comes to listing ingredients, if a flavouring contains lots of different components, you are allowed to list it simply as the flavour name – for example, 'berry flavouring'. 
In addition to these, other rules do apply. See the CLP requirements provided by the ECHA (European Chemicals Agency) – these outline requirements for the labelling and packaging of chemical substances. 
What About SVC Labs – Are They TPD Compliant?
Yes, of course, we are! We are one of the largest TPD compliant e-liquid manufacturers and distribution companies in Europe. We believe that regulating the manufacturing and sales of e-liquids is absolutely vital. So, it is our promise to always comply with these rules and produce only TPD compliant e-liquids. 
In addition to this, we adhere to robust standards of quality control, we are GMP (Good Manufacturing Practice) certified, and we have ISO 14001 and 22000 certifications. 
Get in touch today if you have any questions or concerns surrounding TPD compliance – we'd be happy to help! Choose SVC Labs for all of your e-liquid white-labelling needs.