At SVC Labs, we source bulk cannabidiol (CBD) extracts of the highest standards. Our extracts follow a rigorous quality control and testing scheme to ensure that critical attributes, taste, colour, potency, and purity consistently meet strict requirements. We use our CBD extracts to infuse a wide and ever-expanding variety of products, including oils, e-liquids, edibles, and topicals. 

Full Spectrum Cannabidiol
Full spectrum CBD extract (sometimes referred to as pure spectrum) contains all of the phytochemicals naturally found in the hemp plant. This crude oil includes CBD, other cannabinoids (e.g. CBG, CBC, THCV), terpenes, and essential oils. Full spectrum CBD is extracted using supercritical CO2 extraction. This involves using CO2 that has been put into a 'supercritical' state to draw out the various compounds from the dried hemp plant matter. This is the most unprocessed and natural CBD extract; the other forms of extract will undergo further processing and filtering to reach their final state.
Our full spectrum CBD extracts at SVC Labs contain either 0.05% THC, or 0.2% THC. This is below the negligible THC content of hemp, which is 0.3%. Although this extract contains THC, it is non-psychoactive. The containment of this extensive variety of compounds causes the CBD to offer an 'entourage effect'; this means that the compounds work together to amplify the health benefits of each individual cannabinoid. However, many manufacturers want to be able to offer this entourage effect without the inclusion of THC, and this is where Broad Spectrum CBD comes into play. 
Broad Spectrum Cannabidiol
Broad spectrum CBD crude oil is extracted from the cannabis plant with all of the other plant compounds included, aside from THC. Therefore, our broad spectrum CBD extract is essentially identical to our full spectrum extract, omitting the fact that it is completely THC free (0.0%). It still contains all of the other beneficial naturally occurring cannabinoids, terpenes, and essential oils found in the hemp plant. The refinement process which removes the THC from our extract is extremely effective. This extraction and purification process uses a proprietary and patent-pending technology. This preserves the desirable terpenes and plant lipids, but removes the unwanted THC, waxes, and chlorophyll.
Much like our full spectrum CBD, this extract contains large and diverse amounts of synergistic compounds. This combination of cannabinoids can produce the 'entourage effect'. This means the therapeutic effects of a product infused with this extract will be maximised, but it is still 100% THC free. 
CBD Isolate
CBD isolate is the purest variety of the CBD compound, and due to this purity it comes in a powder or crystalline form. We extract CBD isolate using supercritical CO2 extraction, much like the other forms of CBD extract mentioned previously. However, after this, the extract goes through a further refinement process known as 'winterisation'. This causes the individual remaining compounds to separate.
At SVC Labs, our CBD isolate is at least 99.7% pure, which exceeds the purity verification requirement of 98%. This essentially means that our extract contains no more than 0.03% of any other compound or ingredient aside from CBD. Although this extract does not contain any of the other beneficial terpenes, cannabinoids, or essential oils, it can provide other beneficial uses. Isolate is an option for those who want to use CBD without the slightest possibility of any THC trace. Additionally, isolates can offer many modes of consumption due to the powder form. It can be prepared for use sublingually, mixed into foods and drinks, and more. It is also incredibly easy to measure the CBD dosage when using an isolate, as there are no other compounds or ingredients to account for.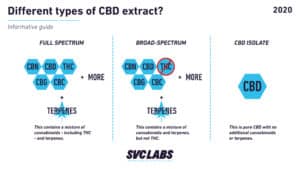 How We Infuse Our Products
At SVC Labs, we infuse our Honest Hemp CBD range with both broad spectrum extract and CBD isolate in order to conform to our 0% THC brand image. We use broad spectrum CBD extract to infuse our tinctures and edibles. This is due to the beneficial entourage effect of the rich variety of cannabinoids, terpenes, and essential oils. Conversely, our CBD topicals are infused with the finest CBD isolate. This follows the notion that the other compounds and excess plant matter found in the CBD extracts would not have any additional benefits when applied topically. As a white-label customer, you can design your CBD products and guide our research and development scientists to infuse each formulation with whichever extract you desire.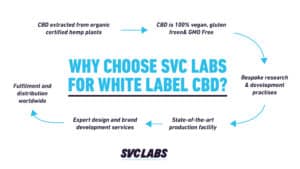 Why Choose SVC?
Our Research and Development Team uses bespoke development practises to ensure our scientists produce the optimal product formulations. We settle for nothing less than perfect when expertly formulating our CBD products. We take pride in the brands that we produce. 
Our production facility homes state-of-the-art machinery which is an integral part of our service. This provides our expert manufacturing, bottling, and labelling team with the opportunity to work efficiently, with the capacity to produce over 136,000 units of finished product per day. 
We extract our broad spectrum and full spectrum CBD from organic hemp plants grown in bio soil with no chemical fertilisers, growth hormones, or genetically modified additives. Our CBD oils are 100% vegan, gluten free, and GMO free. We offer the gold standard for products that unlock the natural healing power of hemp. 
Not only do we create bespoke CBD products, but we can also offer you design and brand development services. Our highly-skilled design team can assist and advise you in all aspects of packaging, design, and POS. 
We are always looking for new opportunities to produce more products for new clients. If you are looking to start your own white-label CBD line, then we are the ones for you!