Recently, there has been lots of talk in the news and media about vitamin D potentially being able to help our nation tackle Coronavirus. 
During the winter months in the UK (which is defined as between October and March), everyone is advised to take vitamin D supplements anyway. This is because we simply don't get enough natural sunlight during this time of the year – natural sunlight is our main source of vitamin D. This is being especially emphasised this year since the vast majority of us have spent far more time inside than usual, thanks to the extensive Covid-19 lockdowns.  
Vitamin D is vital to keep our bones, muscles and teeth healthy. So, even if it didn't help with Coronavirus, it would still be absolutely crucial that we get an adequate amount of vitamin D. 
The NHS recommends that we take 10mcg of vitamin D supplementation daily. But can it really help with Covid? 
The Research Into Vitamin D for Coronavirus
There is evidence that suggests vitamin D boosts the immune system and helps to fight against disease and infection. Some studies also show that adequate levels of vitamin D help people to fight off the common cold and the flu more easily.
When it comes to Coronavirus specifically, research suggests that a deficiency of vitamin D is linked to poorer outcomes if you do catch Covid. In other words, it might not necessarily prevent it, but it could help you to fight off the virus and not suffer from bad symptoms, resulting in fewer complications. 
Research from the Bostin University's School of Medicine found that a vitamin D sufficiency was linked to decreased inflammation in the body and higher levels of immune cells in the blood. These immune cells help to prevent the release of too many proteins into the blood too quickly – this is one of the things that can cause Coronavirus to have deadly consequences. It was found that those with sufficient levels of vitamin D were more than 51% less likely to die from the virus. 
Another study by Dr Michael Holick found that sufficient vitamin D levels could actually reduce the risk of a person catching Coronavirus by 54%. Plus, it could reduce the risk of catching other infections which affect the respiratory tract. 
It's known that a combination of Covid with influenza infection (the Flu) leads to more hospitalisation, more health complications, and a higher risk of death. So, if vitamin D can help to prevent or deal with the flu, then this can help with Coronavirus infections as a result.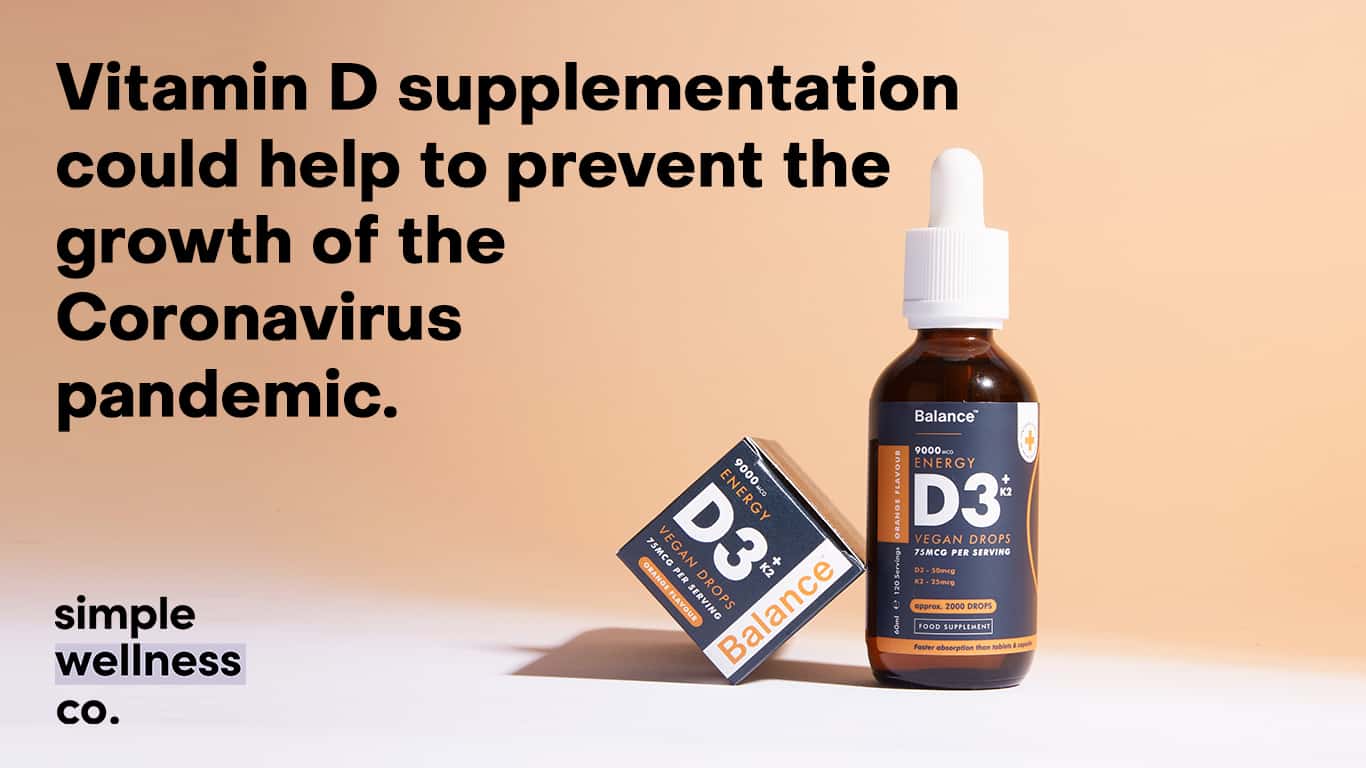 What Does the Government Say? 
The UK Government recommend taking vitamin D supplements daily to support our health through the winter anyway, Covid or not!
A government official stated that dozens of studies over hundreds of countries in the last 6 months suggest that resolving vitamin D deficiencies could reduce Covid infection rates by half, and death rates by half again. 
It was also stated that vitamin D supplementation has the potential to be an "important weapon" in our countries fight against Covid. 
The Scottish government started giving a 4 month supply of vitamin D to all those who had been shielding due to high risk. The NHS said that this was to compensate for a lack of natural sunlight and also to protect these people against other respiratory infections. 
Following on from this, people in the UK can now also use an NHS service in order to receive a 4 months supply of free vitamin D supplementation. Similarly, this is only available for high-risk individuals – those who have received a letter from the NHS or the Department of Health and Social Care (DHSC) saying that they are high risk. 
If you are not shielding, it's still a very good idea to source your own vitamin D supplements to help maximise your health and safety this winter. 
How Much Vitamin D Should People Take?
As we mentioned before, the NHS says that a 10mcg dose of vitamin D per day is adequate. 
However, researchers say that a 400iu dose (equal to 10mcg) is not enough. In fact, this is about 10 times smaller than deemed necessary during this period. A dose of 4000iu (25mcg) is considered adequate, whilst some people with a more severe deficiency will need around 10,000iu (63mcg) per day. 
With our own research that considers the ideal daily dose in general – not just in relation to Coronavirus – we recommend that adults take a serving of 50mcg per day. 
The maximum daily vitamin D supplement doses stated by the NHS are as follows:
Infants under 12 months should not exceed 25mcg per day.

Children between 1 year and 10 years old should not exceed 50mcg per day. 

Adults should not exceed 100mcg per day. 
You can shop the SVC-made Balance vitamin D3 and K2 vegan liquid supplement drops on Amazon now. These are also available for wholesale and white-label orders, along with a wide range of other vegan liquid supplements including O3, vitamin B12, Macca root, Biotin, and Mullein. 
View the full range here, or contact us today for wholesale and white-label enquiries.